JAKARTA, Nov 20, 2023 – (ACN Newswire via SeaPRwire.com) – PT TransNusa Aviation Mandiri (TransNusa), the new player with new rules, today announced that its maiden flight, 8B-151, has successfully and safely landed in Singapore without any delays.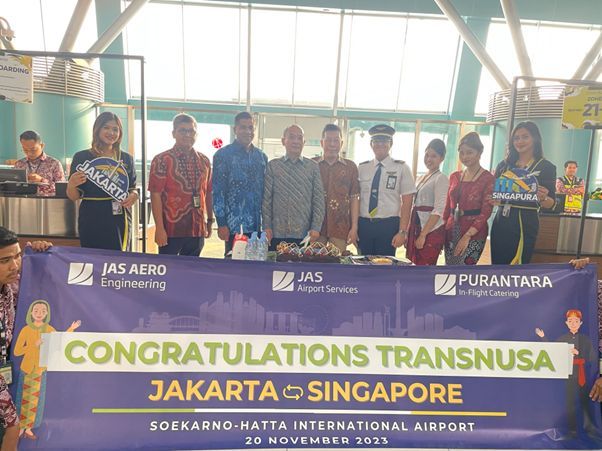 With the launch of the Jakarta – Singapore route, TransNusa has successfully planned, developed and launched four new international routes in a short span of eight months. The airline, a low-cost carrier in its domestic market, has managed to expand its airline business to include international routes, using its own customised business model that allowed the airline to rebrand itself as a Premium Service Carrier.
TransNusa Group Chief Executive Officer, Datuk Bernard Francis, who was instrumental to developing the airline's customised business plan and growth path, said that TransNusa has become the fastest growing airline in South East Asia due to the business plan that was developed and implemented swiftly post Covid-19.
"Post Covid-19, we initiated an intensive market research. Based on the data obtained, we knew that traveller's behavioural pattern had changed, specifically due to the pandemic.  Our next step was to develop a customised business model for the targeted passengers. We implemented the business model on April 14th, with the launch of our first maiden international flight," said Datuk Bernard, adding that the airline has been enjoying a significant growth pattern since April.
An aviation industry expert, who specializes in airline turnaround and revenue management, Datuk Bernard, who was part of the entourage that landed in Changi Airport today, views today's launch as a significant milestone for TransNusa.
"Changi Airport is a world class airport with stringent requirements. The fact that TransNusa has managed to obtain all necessary approvals in such a short timeframe, reflects the importance and commitment we have towards safety, security, maintenance and aircraft performance measures," Datuk Bernard added.
Today's launch of the Jakarta – Singapore international route, comes at the back of TransNusa's launch of its Jakarta – Guangzhou route on November 16th. TransNusa became the second Indonesian airline to receive approvals to start scheduled flight operations to Guangzhou, Guangdong, China.
Since April this year, TransNusa has introduced and launched scheduled flight operations in major capitals in South East Asia and Asia Pacific. The current destinations that TransNusa flies to are Singapore, Kuala Lumpur, Johor and Guangzhou. In the domestic front, the airline, which operates as a low-cost carrier, has scheduled flight to Bali and Jogjakarta.
On the airline's future expansion, Datuk Bernard said "We have plans to further expand our international routes and we want to assist more passengers travel with ease to their destinations," adding that he expects TransNusa to experience a significant growth in 2024.
On the commercial flights to Singapore, Datuk Bernard explained that TransNusa will be operating one round trip flight daily, with the hopes of increasing the frequency in the near future.
The TransNusa flight will depart Jakarta at 07.45am and arrive in Terminal 2, Singapore Changi Airport at 10.40am while flights from Singapore to Jakarta will depart at 11.40am and arrive in Jakarta at 12.25pm. Tickets for this route will be priced from SGD99.
Datuk Bernard had said previously that for its international routes, the services that TransNusa offers exceeded that of a low-cost airline.
"For our international flights, we not only provide premium services with competitive ticket prices in comparison to other low-cost airlines, but we have attractive new product bundles called SEAT, SEAT-PLUS and FLEXI-PRO.
"Our passengers will enjoy check-in baggage of between 15kgs to 30 kgs, depending on the product purchased," Datuk Bernard said, explaining that the baggage offering was over and above the 7kgs limit offered as a passenger's hand carry.
"For the highest package, FLEXI-PRO, we provide more complete services such as free baggage 30kgs, free to choose seats, free food, and drinks, priority at check-in and boarding, no less interesting is passengers' ability to be able to change the flight schedule without restrictions and obtain refund when needed."
TransNusa, which aims to ensure their passengers travel with ease and comfort, has also configured their A320s with a 168-174 seat configuration, which allows for passengers to enjoy 30-31 inches of legroom, comparable to the experience passengers would get in a full-service airline.
"We are committed to providing affordable and competitive ticket prices, while still providing premium services to our customers." concluded Datuk Bernard.
Media Contact
Trina Thomas Raj
Mobile: +6012 4992672
E-mail: trina@myqaseh.org
About TransNusa
Established in 2005, TransNusa started its operation by providing chartered flights. It began its commercial flights in 2011. After ceasing operations due to the Covid-19 pandemic, TransNusa relaunched itself in 2021 as a low-cost airline in its domestic market. In 2023, TransNusa introduced a new business model making it the first Premium Service Airline in the region. The new business model will apply only to its international routes. TransNusa introduced its first international route in April this year. The airline introduced its Jakarta – Kuala Lumpur round trip route and had its maiden flight on April 14. The airline is currently based in Jakarta Soekarno-Hatta International Airport.
Passengers can book their flights on the TransNusa website (www.transnusa.co.id), through authorized travel agents in Singapore, Malaysia and Indonesia, or by contacting the airline's customer service centre at, +62216310888. For the Singaporean market, passengers can contact TransNusa's General Sales Agent, Chariot Travels Pte Ltd, at +65 86602719 while for the Malaysian market, passengers can contact MKM Ticketing Travel & Tours Sdn Bhd at +60378312581.
Copyright 2023 ACN Newswire via SeaPRwire.com.