HONG KONG, Aug 31, 2023 – (ACN Newswire via SEAPRWire.com) – Huitongda Network (09878), the industrial Internet platform deeply engaged in the lower-tier market, once again proved its resilience and profitability through its interim report, showing significant boosts in both revenue and profit.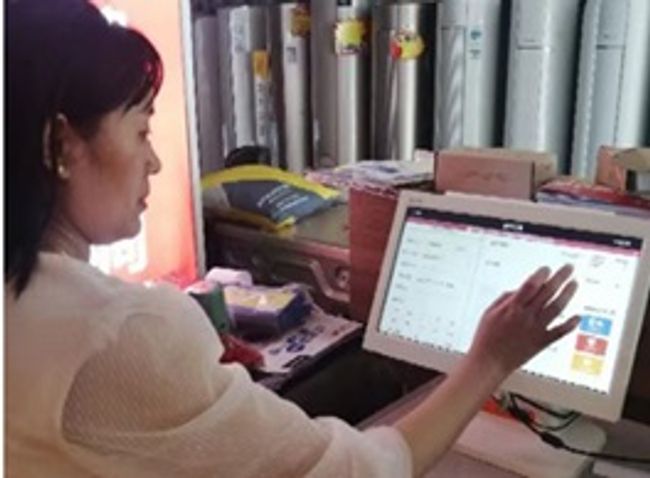 On August 28th, Huitongda Network released its 2023 interim results announcement. According to the financial data, in the first half of 2023 amid the tough environment, the company recorded a total revenue of RMB 43.4billion, representing a year-on-year growth of 6.6%; profit reached 383 million, representing a year-on-year increase of 68%; net profit attributable to equity shareholders of the company amounted to RMB 245 million, making a noteworthy year-on-year increase of 118%, and the overall performance continued to grow steadily. In addition, the company effectively maintain positive operating cash flow. During the reporting period, the company had a net inflow of operating cash for five consecutive years.
According to Zhitong Finance APP, although the overall economic has been on a path of recovery since the beginning of this year, it has still faced significant pressure and the persistent challenges in terms of insufficient demand. From the look of compound growth rates and month-to-month indicators, the current economic recovery has slowed down slightly. However, the core financial data of Huitongda Network achieved growth against the trend, which further solidifies its reputation as the "first stock in the lower-tier market".
Adversity often serves as a litmus test for a company's true value, and now presents an opportune time for investors to identify high-quality stocks. Despite the sluggish economy, the company has demonstrated remarkable resilient growth and emerged as a market leader, which obviously highlights the high adaptability and leading role of the "Huitongda Model" within the lower-tier retail market.
Improvement from both quantity and quality pushes high-quality development, with SaaS+ service continuing to be upgraded
In recent years, the rapid and immense potential of rural consumption in China have come to the forefront. The scale of rural consumption has expanded significantly, accompanied by a noticeable shift towards development-oriented, quality-based consumption patterns among rural residents. With the increase of market demand in the first half of this year, Huitongda Network's SaaS+ business has been further implemented via its online and offline integrated services penetrating the lower-tier market through various forms. The company insists on empowering township family-owned retail stores with digital technology and supply chain capability, promoting the digital transformation of member retail stores and upgrading them to digital retail entities, in order to improve their ability of managing products, retaining customers, scaling up the business, and thus to successfully expand Huitongda's member store network.
In the first half of this year, various indicators of Huitongda Network's member retail stores have achieved steady growth. During the reporting period, the number of registered member retail stores of Huitongda exceeded 217,000, with a year-on-year increase of 13%. Meanwhile, the company accumulated 121,000 SaaS+ subscription users, representing a year-on-year increase of 9%, and 37,000 paid SaaS+ users, representing a year-on-year increase of 37%. The loyalty of member retail stores continued to improve, with the renewal rate of SaaS reaching 68% and customer satisfaction exceeding 95%.
As Huitongda's business network expands, the level of loyalty and engagement among its member retail stores has shown a consistent upward trend, indicating that its services have been recognized and valued by an expanding number of rural stores. Since the beginning of this year, aiming to better serve the market, Huitongda Network has carried out a comprehensive upgrade around the SaaS+ products of the membership store system.
Zhitong Finance APP learned that Huitongda Network has provided the "5-cloud" service platform of e-commerce cloud, retail cloud, data cloud, distribution cloud, and service cloud, allowing more external developers and industry practitioners to develop technology tools with rich features for member stores. In the meantime, Huitongda also officially released AI+ scenarios to better serve member stores, supply chain partners, and upstream manufacturers.
It is worth noting that the company recently released the first AI product – "Qiancheng Digital Human", which means that the digital intelligence transformation of the lower-tier market has entered a stage of real practice.
Therefore, benefiting from the launch of Huitongda Network's first batch of product portfolios of Smart Shopping Guide AI, Smart Marketing AI, and Digital Human, the company further improved the level of intelligence to provide member retail stores on commodity transactions, e-commerce operations, marketing, and store management, which also exploits the company's potential in AI.
With further optimization of Huitongda's internal SaaS capabilities, its service level has been positively improving, driving the company's operating results to reach new heights.
Take Yuanqiang Home Appliances Store in Wenshang County, Shandong Province for example. During the 618 period, it successfully transformed its business model into a combination of online and offline with the support of SaaS+ tools and fan communities. This member store listed limited-time offers through the "Qiancheng Shopkeeper" app and Huixianggou shared them with the fan community, which thereby attracting traffic to the store to promote transactions. Meanwhile, it also found three agents to make better publicity for the owner of the member store, and hence further boosted the sales and profits. The sales of one single event in this store reached as high as RMB 184,000, and the number of followers increased by nearly 100.
From the above case, with the further upgrading of Huitongda's multiple products and services, traditional retail stores have been successfully transformed into digital retail entities, a combination of physical store, online store, and local community store. They no longer needed to wait for customers to come to the door, instead they can acquire customer precisely and attract traffic efficiently. This creates a win-win situation for all three parties – the industry, member retail stores and rural consumers.
More and more brands have chosen Huitongda for its value of industrial end services
As the other end of Huitongda Network's "Two Ends, One Road" strategy, the company's trading business has also achieved sustainable development through strengthening advantages, category expansion, and new model creation. For a long time, the company has been focusing on member retail stores, innovating a variety of supply chain models that effectively serve upstream brand manufacturers and supply chain partners.
In the first half of this year, Huitongda Network continued to strengthen strategic cooperation with brand manufacturers, connecting with more than 1,000 high-quality upstream brand manufacturers and the proportion of supply from the headquarters continued to increase to 55%.
It is worth mentioning that Huitongda Network has accelerated its deployment in the laundry industry this year. So far, the company has cooperated with 14 brand manufacturers such as Unilever. Huitongda's breakthrough in the laundry industry has helped the brands jointly operate the lower-tier market, while simultaneously increasing the company's gross profit margin and achieving a win-win situation for all parties.
In addition, aligning with the national policies and industry trends, Huitongda Network integrated the unique attributes of agricultural industry and vehicles and auto parts merchandise industry. This strategic move resulted in the simultaneous promotion of two impactful projects – the agricultural project of "down go agricultural resources, up go agricultural products" and vehicles and auto parts merchandise project of "new energy vehicles in rural areas + battery recycling". This not only allows rural consumers to make cost-effective purchases, but also boosts the income potential of farming households, enabling them to maximize their earnings through improved sales oppportunites.
With the goal of reducing cost and increasing the efficiency, Huitongda Network uses digital capability of its platform and the entire industry chain, based on the actual needs of the supply and demand ends, constantly innovates and explores the supply chain model to integrate production and marketing. Zhitong Finance APP noticed that Huitongda continued to promote the B2F construction of upstream brand factories while exploring opportunities for cooperation with more high-quality upstream leading brand manufacturers.
In the first half of this year, Huitongda Network continued to promote the B2F inverted supply chain, covering multiple industries such as agricultural means of production, household appliances, vehicles and auto parts merchandise.
Corporate mission supports national policies; capital value synchronizes with social value
Under the lead of the "Huitongda Model", in the first half of this year, the performance of Huitongda Network has achieved improving quality and stabilizing growth. In the meantime, the company also continues to practice its corporate mission of making peasant's lives better, take corporate social responsibilities, create corporate social value, and thus combine the corporate mission with central policies by assisting in promoting the development of digitalizing rural areas.
Zhitong Finance APP noticed that Huitongda Network has established cooperation with multiple local governments and departments, focusing on the construction of commercial system in country areas, e-commerce into rural demonstration counties, Internet + agricultural products out of the village project, etc. Such government-enterprise cooperation can achieve a win-win situation through shared resources and complementary advantages, which pushes high-quality development of both urban and rural revitalization.
Moreover, the corporate value of Huitongda Network has also been recognized by the government, industry, and investors. The National Development and Reform Commission of China publicly "liked" Huitongda this June, recognizing it for taking root in the rural market and helping the small and micro real economy. Also, the company is a key software enterprise encouraged by the State, a national high-tech enterprise, a digital business enterprise, and a national model enterprise for supply chain innovation and application.
Summary
Through a comprehensive analysis of Huitongda's financial report, we found that under the dual-driver mode of "transaction business + service business", the company has successfully built an urban-rural circulation "highway" connecting the industrial end and the retail end. This not only stimulates rural vitality, but also promotes the value of member retail stores in the lower-tier market.
Amidst a challenging economic landscape,Huitongda Network becomes one of the few companies in the industry that maintains solid growth with multiple advantages such as unique business model, strong member store network and excellent supply chain management capability, which undoubtedly highlights its investment value.
Furthermore, in order to demonstrate confidence in the company's future development and recognition of the company value, Huitongda Network actively promoted an equity incentive plan during the reporting period. According to the announcement, on April 6 this year, the company granted 4.8425 million H shares to 494 selected employees. The grantees are subject to the main unlocking condition of no less than 30% year on-year increase in net profits attributable to equity shareholders of the company every year. Zhitong Finance APP believes the launch of the equity incentive plan would highly bind the interests of employees, the company and shareholders, which would help the Group further improve the efficiency of the core team, maintain the stability of the core team, and provide guarantee for the company to achieve its medium and long-term performance goals. As of July 28, 2023, the trustee of the company had purchased 574,500 H Shares on the market.
Taking a comprehensive view of various factors such as Huitongda Network's sustained performance growth, strategic development trajectory, untapped future growth potential, and evolving market demand, we expect Huitongda Network to benefit from the digitalization of rural areas for a long period of time, and to have a higher valuation premium in the medium and long-term development.
Copyright 2023 ACN Newswire. All rights reserved. (via SEAPRWire)