LAKE MARY, Fla., Mar 3, 2023 – (JCN Newswire via SEAPRWire.com) – A consortium of Mitsubishi Power Americas, Inc., Sargent & Lundy and TIC–The Industrial Company will provide Entergy Texas with engineering, procurement and construction (EPC) services to build the Orange County Advanced Power Station (OCAPS). The Public Utility Commission of Texas approved Entergy Texas' proposal to build the 1,215 megawatt (MW) combined-cycle power plant near Bridge City, Texas.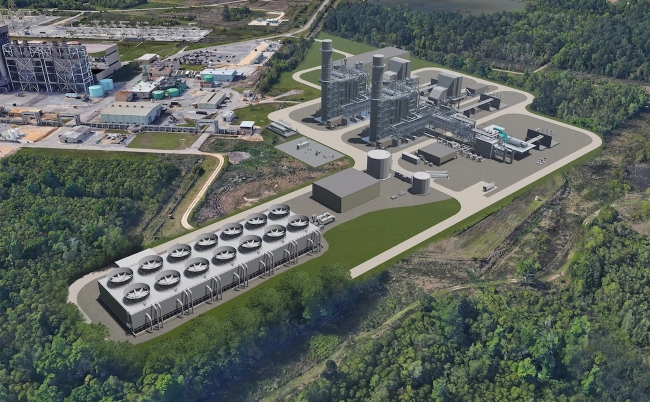 The consortium partners' combined expertise will help Entergy progress toward its energy transition goal:
– Sargent & Lundy, known for its advanced class combined-cycle engineering experience, is the Engineer of Record.
– TIC, which has a strong record for safe on-time construction, is the Constructor.
– Mitsubishi Power, a world leader in power generation and storage solutions, is supplying its hydrogen-capable power train which includes two M501JAC enhanced air-cooled gas turbines, steam turbine, heat recovery steam generator, and advanced control system.
President and CEO of Entergy Texas Eliecer Viamontes, said, "The OCAPS facility will power the rapidly growing Southeast Texas region for years to come and continue our mission of providing cleaner, more reliable, and lower-cost energy for our customers. Additionally, the ability to unlock the plant's hydrogen co-firing capability supports the plant's long-term viability and will benefit our customers. OCAPS will be strategically located near hydrogen producers, pipeline, storage and off-takers to leverage this important source of clean and reliable energy in the future."
"Through the strong collaboration and the extensive expertise of the project partners, we are strategically equipped to help Entergy achieve its decarbonization goals," said Kurt Clardy, Senior Vice President of TIC. "We look forward to leveraging our vast experience to safely construct this industry-leading facility."
Sargent & Lundy Chairman, President & CEO Victor Suchodolski said, "Being selected as the engineer of record is a wonderful opportunity for us to support Entergy's long-term decarbonization goals. Along with our advanced class combined-cycle engineering experience, Sargent & Lundy has a deep understanding of the complexities associated with developing large-scale projects like this. We are closer to a cleaner energy future as we work with our partners to reach their 2050 net zero carbon targets."
Bill Newsom, President and CEO, Mitsubishi Power Americas, said, "Mitsubishi Power realizes that to reach net zero carbon goals, we need to assemble teams with complementary expertise. We have been honored to work with Entergy on several recently commissioned power plants. We look forward to continued progress with Entergy and our EPC partners TIC and Sargent & Lundy. To reach net zero carbon by 2050, we must all do our part. Whether an OEM, a contractor, a producer or consumer, we're all 'The Power Generation.' Together we are creating a Change in Power."
About Entergy Texas
Entergy Texas, Inc. provides electricity to nearly 500,000 customers in 27 counties. Entergy Texas is a subsidiary of Entergy Corporation, a Fortune 500 company headquartered in New Orleans. Entergy powers life for 3 million customers through its operating companies across Arkansas, Louisiana, Mississippi and Texas. Entergy is creating a cleaner, more resilient energy future for everyone with our diverse power generation portfolio, including increasingly carbon-free energy sources. With roots in the Gulf South region for more than a century, Entergy is a recognized leader in corporate citizenship, delivering more than $100 million in economic benefits to local communities through philanthropy and advocacy efforts annually over the last several years. Our approximately 12,000 employees are dedicated to powering life today and for future generations. For the latest news from Entergy, visit the Newsroom.
About Mitsubishi Power Americas, Inc.
Mitsubishi Power Americas, Inc. (Mitsubishi Power) headquartered in Lake Mary, Florida, employs more than 2,300 power generation, energy storage, and digital solutions experts and professionals. Our employees are focused on empowering customers to affordably and reliably combat climate change while also advancing human prosperity throughout North, Central, and South America. Mitsubishi Power's power generation solutions include gas, steam, and aero-derivative turbines; power trains and power islands; geothermal systems; PV solar project development; environmental controls; and services. Energy storage solutions include green hydrogen, battery energy storage systems, and services. Mitsubishi Power also offers intelligent solutions that use artificial intelligence to enable autonomous operation of power plants. Mitsubishi Power is a power solutions brand of Mitsubishi Heavy Industries, Ltd. (MHI). Headquartered in Tokyo, Japan, MHI is one of the world's leading heavy machinery manufacturers with engineering and manufacturing businesses spanning energy, infrastructure, transport, aerospace, and defense. For more information, visit the Mitsubishi Power Americas website and follow us on LinkedIn.
About Sargent & Lundy
Sargent & Lundy is one of the longest-standing full-service architect engineering firms in the world. Founded in 1891, the firm is a global leader in power, energy and decarbonization with expertise in grid modernization, renewable energy, energy storage, nuclear power, fossil power, and carbon capture. Sargent & Lundy delivers comprehensive project services – from consulting, design and implementation to construction management, commissioning, and operations/maintenance – with an emphasis on quality and safety. The firm serves public and private sector clients in the power and energy, gas distribution, industrial and government sectors. For more information, visit sargentlundy.com.
Communications Contacts:
Kendra James
Entergy Texas
+1 281-297-2353
entergytexasmedia@entergy.com
Christa Reichhardt
Mitsubishi Power
+1 407-484-5599
Christa.Reichhardt@amermhi.com
Brenda Romero
Sargent & Lundy
+1 312-269-2137
brenda.l.romero@sargentlundy.com
Angela Nemeth
TIC
+1 402-926-8951
Angela.Nemeth@kiewit.com
Copyright 2023 JCN Newswire. All rights reserved. (via SEAPRWire)