TOKYO, Nov 9, 2023 – (JCN Newswire via SeaPRwire.com) – Mitsubishi Heavy Industries, Ltd. (MHI) has carried out autonomous inspections at a refinery employing the "ASCENT," a second-generation "EX ROVR" plant inspection robot with explosion-proof features(1) currently under joint development with ENEOS Corporation. The inspection testing took place at ENEOS's Oita Refinery in Kyushu within the framework of the two companies' joint R&D program for the 2023 fiscal year(2). Conducted between June and the end of September, the operational tests confirmed the ASCENT's outstanding mobility performance in diverse environmental conditions including uneven floor levels in the refinery's oil dike, narrow spaces, grass and gravel surfaces, pooled water, and night-time operations. The test program also succeeded in acquiring visual images of instrumentation, thermal scans, and acoustic mapping information to replace manned inspection in a refinery setting.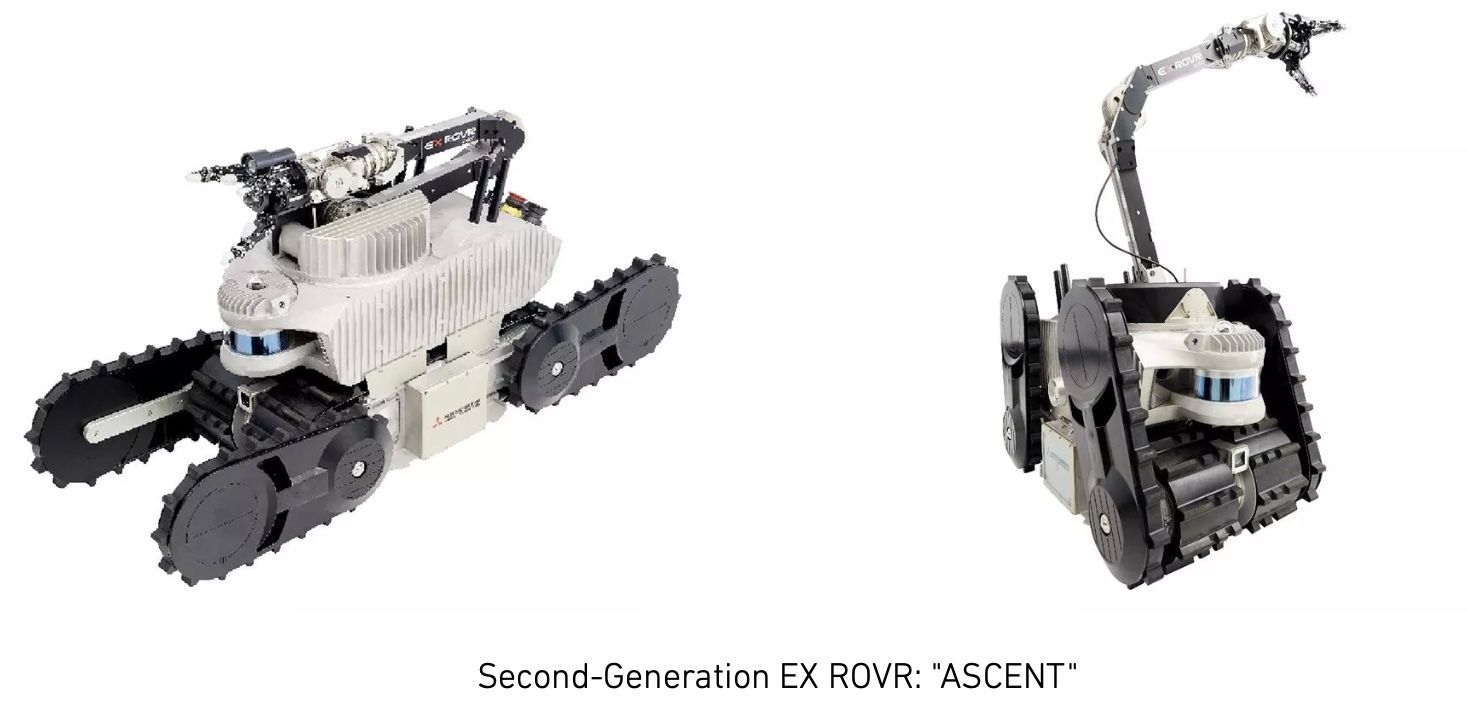 MHI also showcased the EX ROVR ASCENT at the SPRINT Robotics World Conference for Inspection & Maintenance Robotics 2023, held in Houston, Texas, in October(3). Here, the Company introduced the results of its long-term trial runs conducted together with ENEOS, as well as ENEOS's roadmap for fully integrating EX ROVR at their assets by 2030. The new robot was enthusiastically received by visitors from around the world, resulting in inquiries from business operators across the globe.
Because the EX ROVR can perform round-the-clock inspections in potentially explosive environments, it is well positioned to provide value through enhancing worker safety, boosting work efficiency, and improving facility operating rates. EX ROVR employs a 6-DOF (Note4) explosion-proof robotic arm with an integrated lighting and camera system that enables close-up, front-facing photography of plant instrumentation in complex arrangements from a variety of positions. The EX ROVR can also perform measurement of gas concentration, acoustic mapping, and acquisition of thermal scans. Moreover, when the robot is used in combination with the provided online app, a standard feature, the operator can perform remote operations, manage inspection schedules, and review inspection data. In the event of an incident occurring in the plant, remote operations enable rapid assessment of on-site conditions, thereby contributing to higher plant inspection efficiency and safe, swift resolution of the incident in question.
The EX ROVR has been designed for an optimal human-machine interface, making robot operations easy to perform. This capability has enabled the operator to master control and integration of the robot at the ENEOS refinery in a short time. It also enables remote operations, mission planning, and inspection operations to be automatically performed while the plant remains in operation.
Going forward, MHI will continue to accumulate inspection data through long-term robotic trials. The Company will also proceed with the development of an app which will provide automatic, early detection of anomalies based on accumulated data to further enhance the EX ROVR's product value.
(1) A robot described as "explosion-proof" is equipped with features that collectively limit the danger of the robot igniting an explosion or fire from its own electric parts or heat in environments filled with flammable gas.
(2) For details on this collaboration, refer to the following news releases:https://www.mhi.com/news/20091002.html; https://www.mhi.com/news/220411.html
(3) SPRINT Robotics World Conferences showcase today's most advanced inspection robots from around the world. Participants include the major oil and gas companies, manufacturers of plant maintenance robots and equipment, etc.4DOF: degrees-of-freedom. The EX ROVR's robotic arm and gripper can move in the upward, downward, right, left, forward and rear directions. It can also tilt forward or backward, swing to the left or right, and rotate to the left or right in a tilted orientation.
For more information, visit www.mhi.com/news/23110901.html.
About MHI Group
Mitsubishi Heavy Industries (MHI) Group is one of the world's leading industrial groups, spanning energy, smart infrastructure, industrial machinery, aerospace and defense. MHI Group combines cutting-edge technology with deep experience to deliver innovative, integrated solutions that help to realize a carbon neutral world, improve the quality of life and ensure a safer world. For more information, please visit www.mhi.com or follow our insights and stories on spectra.mhi.com.
Copyright 2023 JCN Newswire via SeaPRwire.com.